Wink's Adventure across the USA
Monday Night - Tuesday
Leaving Lake Tahoe at 10:00 pm in the dark of night, crossing 600 miles of Nevada was non eventful.
As morning broke, these images were taken in Utah looking back over the Nevada desert.







Arrived in Salt Lake City, Utah 9:00am. Tuesday involved a day of rest and touring of the city.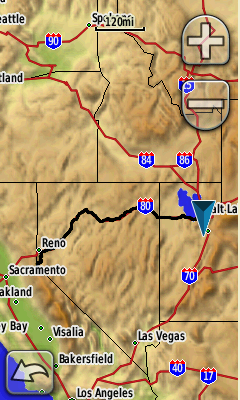 Nevada desert crossing: From Lake Tahoe, Ca. to Salt Lake City, Ut.
Total distance of 584 miles, 8 hours 50 mins. moving travel time ( about 75 mph )
I think one time I hit 92+ mph but for the most part all speed limits were honored except
across the desert where the speed limit was not posted at all.
Wednesday we plan to be in Yellowstone National Park in Idaho-Wyoming
Tuesday
Back to Wink's Adventure across the USA
Monday Wednesday Thursday Friday Saturday
DAY AND NIGHT OF REST SUNDAY
Drive Home - Monday
Left Santa Rosa, Ca. Monday morning and arrived in Salt Lake City, Ut. on Tuesday morning.
Toured Napa Valley, Sacramento Ca. and Lake Tahoe, Ca.
801 total miles traveled in 26 hours with 14 hours driving and 12 hours touring.