Essential Training 2004
One Week Course
http://www.curtis.anderson.name/2004/jude/essential.htm

Course Plan: Guide and Direct.
Step 1) Make a deposit no matter how long it takes.
Step 2) Reward the deposit.
Step 3) Reduce the deposit time.
Lecture - Video Reward - Video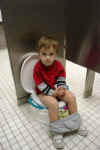 New Words Learned:
"Not Now" ..."Later"...
"Water"
and
"I Did IT"


It is not so bad after all.



Some Hits, Some Errors. Bases Loaded.



Specialized Coaching & Therapy
Future Plans: Open an Essential Training Center and quit my day job.

Final Grade A+ Graduation - Video