My Personal Study on Video - Communicating To The Masses
Point 1) Jesus used parables to illustrate: Studies show that people process information 75% to 80% visually and that memory retention increases from 14% to 38% when listeners see, as well as hear. Oxygen's Powerful Preaching Graphics Volume 8 is loaded with over 450 PowerPoint-ready preaching images, sermon backgrounds, and time-saving templates designed to enhance your congregations sermon retention.

Point 2) Businesses seek to deliver video: WASHINGTON (Dow Jones)--Verizon Communications (VZ) said Thursday it'll deploy fiber-based broadband to homes and businesses in six eastern states and hire between 3,000 and 5,000 employees by the end of 2005 to help build the network.
States where the company plans to roll out so-called fiber-to-the-premises, or FTTP, networks include Virginia as well as parts of Delaware, Maryland, Massachusetts, New York and Pennsylvania, according to a press release. Verizon previously announced deployment in California, Florida and Texas.
Verizon , the largest U.S. telephone company, is building a high-speed fiber network to deliver voice, data and video to millions of homes and businesses.
Verizon's network is Internet-based. Ultimately, all network traffic will be transmitted in that manner, said Scott Kriens, Juniper's chairman and CEO. "This trend, which was once questioned by many, is now accepted by all and is accelerating in its deployment."
In addition to Verizon's announcement Thursday, SBC Communications said following last week's fiber-to-the-curb ruling that it'll provide 18 million households with high-speed data, video and voice services in two to three years - rather than five years as previously announced. The company plans to spend between $4 billion and $6 billion to deploy 38,800 miles of fiber.
Point 3) Global Population Growth Demands Mass Communication
Life expectancy is longer for many, shorter for many.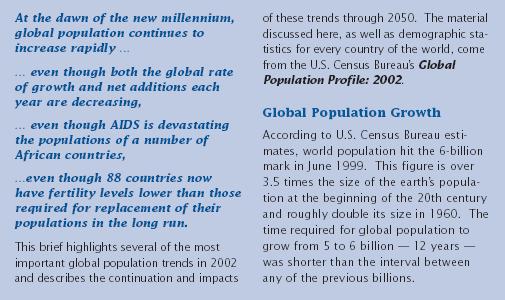 ---
10/2005

Video-laced websites evolve into pseudo-TV stations
By Jefferson Graham, USA TODAY
LOS ANGELES — Don't touch that mouse. Online news and entertainment video
is booming, says market tracker Forrester Research, with video traffic
doubling every six to eight months on average at websites that offer sight,
sound and motion.
"There seems to be no way to quench people's thirst for online video
programming," says Chris Chambers, WWE senior vice president.
---
The new Wi-Fi standard is known as 802.11n and follows the 802.11a, b and g
standards. The n-version is billed to be two to 10 times faster than
current Wi-Fi technologies and will enable high-quality wireless video
transmission in office and home networks.

And it promises to make Wi-Fi a viable means of wirelessly connecting
consumer electronics products such as video recorders and television sets.

The n-standard will be compatible with current Wi-Fi standards, which means
old and new Wi-Fi-enabled devices can connect.

The n-standard boosts performance by using multiple antennas and more
efficient use of the radio spectrum because it requires less information to
make sure data is correctly communicated between devices.

Instead of wasting 50% of the connection with traffic information, the new
standard uses 30 to 40%, Chen said.
---
Last year, Apple and Intel reached a deal to use Intel's processors starting in 2006. There's also a chance that Apple will introduce an iMac computer that functions as a digital video recorder, according to industry observers.

As usual, Apple isn't dropping any hints, said Mike Sponseller, a spokesman for International Data Group, Macworld Expo's organizer. "They're being very tight-lipped," he said.

Sponseller said digital media will be a primary focus of the expo. "Digital photography is really big this year, along with music and video."

In addition to 345 commercial exhibits, Macworld, which runs through Friday, will offer presentations by Mac experts and an auto show featuring custom cars outfitted with Apple electronics.

A handful of Sonoma County tech businesses will be represented at Macworld, including O'Reilly Media, the Sebastopol computer publisher; ExecUtron Development Corp., a Santa Rosa business software maker; MicroMat Inc., a Santa Rosa developer of computer troubleshooting software; and Outspring Inc., a Santa Rosa maker of spam filters and e-mail programs.

Sonoma Wire Works hopes to expand its market by reaching Mac users at the show.

Sonoma Wire Works' current software for Windows has reached 10,000 users since it hit the market in November 2004, Wright said. She wouldn't disclose revenues but said the company is on track to make a profit this year.

While most audio software is aimed at studio professionals, RiffWorks is designed to let beginners produce, record and podcast their musical creations, Walton said. The new version for Mac and Windows also allows musicians to jam and record together online, said Randy Wentzel, the company's customer support chief.

The price for the new RiffWorks hasn't been announced. The current version sells for $189 in a kit that includes a guitar port, a device thatconnects a guitar and a computer. It's $99 without the port.

Although it's officially headquartered in Sebastopol, Sonoma Wire Works doesn't have an office. Instead, it's a virtual business with a half-dozen employees scattered from Colorado to Sonoma County. They communicate by e-mail and cell phone.

---
Apple has sold more than 42 million iPods, 30 million in 2005, making the
gadget a huge marketing opportunity for companies in a range of industries.
Merchandise including iPod clothing, leather cases, speakers, massage
chairs were part of an estimated $850 million cottage industry last year,
according to NPD Group Inc., a market research firm in Port Washington, N.Y.
Apple has sold more than 42 million iPods since the original product
debuted in 2001, and the online iTunes Music Store sold its billionth
download last week. Apple, which has a whopping 78% share of the
digital music device market, has just a 4% to 5% share of the total PC market.
Videos downloaded from the iTunes Music Store can be played back on a personal
computer or an Apple iPod portable media player, among other devices.
More than 8 million videos have been sold since it launched at the end of last year.
Shows including Walt Disney Co.'s "Desperate Housewives" and "Lost" were among
the first to be made available on the service.